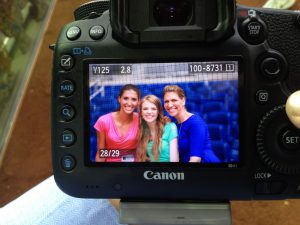 Girls of Billy's Bunch (Kelly Saco, Lauren, Me).
I am in a unique position to work for Fox Sports Florida, but also to help promote the Miami Marlins and entertain kids through the show Billy's Bunch. I'm not covering the game by game performances, but telling stories off the field, and showcasing the amazing players and their personalities.
Today was an eye opening day for me personally and professionally. I had to shoot two segments for the kids show Billy's Bunch, and was struck by the general mood and energy of the team.
On the surface the players were amazing. First we did a VERSUS competition between Pitcher Alex Sanabia and Frankie. He was open to a dizzy bat obstacle course, and was so gracious with his time. I mean seriously, he spun around a bat, hopped on one foot, and ran drills backwards. Who does that?! Such a good guy.
Don't want to give it away, but Frankie rocked VERSUS!
Supermodel Lauren got into her groove…by the fishtanks!
Next up a photography lesson for Lauren from professional photographer Cehman Birick. www.biricikmedia.com He took some incredible shots of her, and Juan Pierre and Rob Brantly added some fun.
Before we ambushed JP I asked him if he was in a good mood today. In his signature beast mode shirt he replied, "I'm always in a good mood…what cha got?!" Love his positive spirit and willingness to always help the show.
But beneath the fun times at batting practice you could feel the frustration. Steve Cishek stopped by to chat with me, and though he was, and is always positive and uplifting, he seemed down at the slow start and ready for things to turn around…fast.
Rob Brantly was also open today, telling us about blocking drills when he said, "what doesn't kill you makes you stronger. That's kind of like this season for us. 2-11 is a rough start but we treat every game as a new start." He added that he's been in a slump lately, and tonight he was going to hit as hard as he can. "I'm going to swing out of my shoes tonight!" And he did swing hard tonight, he went 1 for 3 with an RBI single.
Rob was also kind enough to give our reporter Frankie a private hitting lesson, and goof around with Lauren running like a supermodel. You have to see these pics by the way…he reminds me of Jim Carrey with his facial expressions.
It was a treat for our kid reporters to get so much one on one time with the athletes today, but I felt like the players appreciated the distraction from us as well.
Why do I support the Marlins? Why will I continue to go to games? Well it's not because I work with the team. It's because this is a good group of guys. So many great men, great players with equally interesting stories. It's not the players fault that this team was haphazardly put together after the dissemination of last year's failed experiment. They are young, they are hungry, and they are living their dream. Unfortunately, very few fans are watching.
I listen to sports talk radio. I hear every host and reporter criticizing what Jeffrey Loria did to this team, and to quote my hubby, I don't necessarily disagree. But do we punish the players for the owners and management's decisions? It's easy to boycott them. It's easy to post empty pictures of the stadium on twitter. But it's even easier to go to a game, and have fun!
My daughter loves going to games, especially if Billy the Marlin is around. It's a beautiful ballpark, and right now the best deal in town. Just ask Groupon.