So the motto for the Lone Star State is "everything is bigger in Texas". Big state, big trucks, big hair, big hats, Dallas is the Big D….and now the battle of the big scoreboards?
That's right, the Miami Dolphins will play a preseason game tomorrow at Reliant Stadium in Houston, and it appears the Texans now truly have the biggest scoreboards of the four major professional sports. Bonus, it's the largest in Texas. Check out this photo my hubby sent me a few minutes ago, he's in town for the CBS4 television broadcast of the game.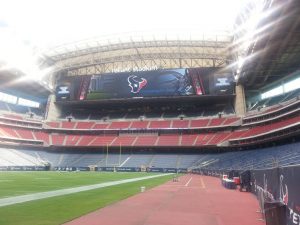 According to Engadget.com, the screens display covers 14,549 square feet with 5.28 million pixel resolution. I don't really know what that means…but if you're at the game, I'm sure you will be able to not only see the sweat on the players faces, but feel it as well. And it's not just one ginormous screen, there is one in each end zone for your viewing pleasure. The scoreboard is also 100 feet wider than the Dallas Cowboys LED display, so the Texans officially are BIGGER than the Cowboys. At least in scoreboard circles.
Maybe someday they will just put a gargantuan screen down as the field, and the fans can control the players like a giant virtual video game. Then…I would TOTALLY go to a Fins game.
Where's your favorite stadium to watch football?