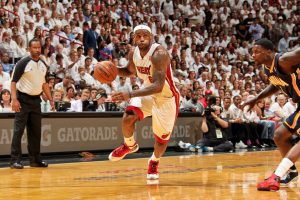 Lebron James intensity in Game 5 Eastern Conference Finals.
This is why I love sports. The uncertainty. The intensity. The frustration. The drama. And of course the heroic on court performances that leave us in awe.

We've all heard the historical importance of a Game 5 win. The winner of Game 5 in a best of 7 series that is tied 2-2 goes on to win the series 8 out of 10 times. Last year as you may remember, this scenario happened twice to the Miami Heat – against the Pacers they won Game 5 and went on to win the series in 6 games. Against the Celtics, the Heat bucked the trend, winning the final 2 games to take the series after dropping Game 5.

Last night in my mind was a must win. And after the first half, trailing Indiana 44-40, I'll admit I was nervous. But as Rudy Tomjanovich so famously said, "never underestimate the heart of a champion". And boy did Lebron James show his heart. And desire.


Interviewing HEAT fans after Game 5 on Sun Sports.
Lebron James literally put the team on his shoulders in the 3rd quarter, outscoring the Pacers 16-13 and adding 4 assists. Miami native Udonis Haslem added 10 as well, and the HEAT outscored the Pacers 30-13. David West said after the game "Udonis Haslem, he was the difference in tonight's game". Amazing how one quarter can change the outcome of a game and perhaps the series. Miami now has a 3-2 edge, and a chance to finish this off at Bankers Life Fieldhouse Saturday night in Indianapolis.

After the game watching the fans celebrate outside the American Airlines Arena, it felt like Miami had clinched the Eastern Conference title. The excitement and emotion was so raw and pure, as they could feel their team was just one win away from their 4th NBA Finals. Say what you want about HEAT fans, but last night they simply rocked.

This is why I love basketball, and my job.


Other Notes and Observations from Game 5
Tyler Hansbrough's response to the question should Chris Andersen have been ejected after altercation? "uh…I don't know…uh….um…." He then went on to say, "it wasn't really a basketball play."

National Champion Louisville's coach Rick Pitino and his wife made the rounds in the Pacers locker room after the game.

Recently retired soccer superstar David Beckham was in attendance of last night's game. I walked 4 feet from him as he was entering Hyde Lounge…and I think he looked at me. This could be the highlight of my career.