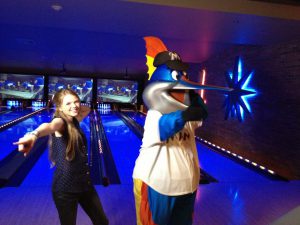 Lauren boogie-ing with Billy at the Marlins Basebowl event.
So when the Miami HEAT are on the road…you'd think that I'm just sitting back, watching TV with my kids and hanging low right? No chance. It's baseball time…and my first show of the season, Billy's Bunch airs on April 6th on Fox Sports Florida. I have been shooting the show since February, and now it's time to put the pieces together in post production.
Lauren and Preston shooting in the Clubhouse
PRESTON WILSON–Newest Co-Host
This year, former major-leaguer Preston Wilson joins the cast as co-host alongside Lauren. He adds so much spunk and personality to the show! I love how energetic and willing he is to help us out. Not only is he hosting the show, but he's also contributing by teaching kids the fundamentals of baseball. We are super lucky to get him this year…because in my opinion, he'll be doing national broadcasts soon.
Hosts with the most?
Lauren with Marlins Steve Cishek
LAUREN–Co-Host
Every show we air four different feature segments, and we began shooting back in February during the Miami Marlins Ayudan Week. When I saw that they were holding a Basebowl event at Lucky Strike Miami Beach, I thought it was perfect for the kids show. The show host and reporter Lauren took on Marlins pitcher Steve Cishek. Who wins? You'll have to watch the show to find out…but I can tell you that Shrek can throw some mean trick shots! And Lauren is better than ever…a true star.
Frankie and his new favorite player Juan Pierre.
FRANKIE–Kid Reporter Extraordinaire
Also new this year is kid reporter Frankie. He is a one-of-a-kind. And his style rivals Preston's. Frankie is a sports enthusiast, and at the young age of 9 has amazing confidence and talent. I can't wait to see him when he's 12. He will be in 2 segments the first show; one as a kid reporter at the Marlins Winter Warmup,
The Hawk really opened up to Frankie!
and then he will take over Stevie's role and host his new game show "Fastballs with Frankie". I believe imitation is the greatest form of flattery…so I've basically hijacked Jason Jackson's "Hot Second with Jax" and turned it into a kids show segment. Thanks Jax and Ted Ballard for the idea!
There are so many great things about working with kids. First, they are fun, and literally "out of the mouths of babes" applies everyday. You can imagine a segment, plan it, but how the kid interprets it and presents it is totally spontaneous. Another huge advantage, is players love the kids! It's a totally different vibe for them…not getting asked the mundane baseball questions they are used to. These kids bring it…and always bring out the best in the athletes.
Lauren with the talented Mike Plante and Kelly Saco.
Chillin' in the Clubhouse.
FUN FACTS!
Some interesting tid-bits we learned from some of the Marlins so far this season:
1. Frankie was 5 days old when Juan Pierre won the World Series with the Florida Marlins in 2003.
2. Andre Dawson didn't learn how to swim until he was 50 years old. He is now the face of the Baby-Otter Swim School in Plantation, FL.
3. Steve Cishek was just married this past summer, and his wife still lives up north.
4. Tom Koehler was married on the same day as Cishek, and Dan Jennings were also married this offseason. Sorry ladies!
4. Logan Morrison is still crazy and fun, but now he's engaged…poor girl. (just kidding LoMo)
5. Hitting coach Tino Martinez needs to brush up on his trivia!
6. Rob Brantly modeled his autograph after his dad–because he was his biggest hero. Awww…love him!
Going to be a fun season on Billy's Bunch…tune in to Fox Sports Florida at 11am on April 6th to catch the show. And a new episode debuts the first Saturday of every month on FS Florida. You won't be disappointed! And a big shout out to the awesome crew that helps every month: Mike Plante at
http://mikeplanteproductions.com/
, Kelly Saco, Charlie Luken, Bob Grossman and Christopher Piatt. It's a true team effort… I'm a lucky girl!