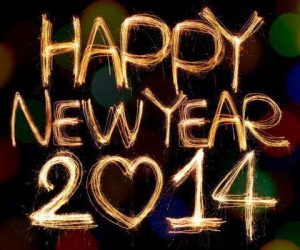 2014 is already upon us. And as I scrolled through Instagram, Facebook, and Twitter today, I saw and read so many wonderful good wishes, followed of course by the dreaded New Year's Resolutions. Dum, dum dum, dum!
Everyone wipes the slate clean and start fresh when the calendar advances. So many of us focus on weight goals and fitness vows. My favorite so far is "No Junk January"…already failed at that one.
And then there's the obligatory be more organized resolution. High also on the popular goal-of-the-new-year list is to travel more, and work less. Of course there are the endless goals, the planning, and the excitement for the year to come to make change.
I used to make resolutions, every year. I would join a gym, or clean out the closets on January 1st. But you know what? I'm done with New Year's Resolutions…which inevitably lead to more pressure of another goal to reach…and then the disappointment of ultimately failing.
Don't we all have enough on our plates already?
So this year, 2014 for me, is all about one thing. Finding a word that encompasses what is essential for me to thrive. It's not a new concept, there have been many others that have written about finding a word that symbolizes what is needed in the new year.
And after reflecting on the past few years of having babies, and trying to balance all that life offers, the word that I've chosen is…
EMBRACE.
It's time to accept where I am at this point in life, know that I am doing my best, and just allow it to happen. I am open to whatever possibilities come my way, and ready for any new adventures that are waiting. I've been trying to control everything really; change my career path, or where we live, or a thousand other things. But ultimately, wherever we are in this life, it has happened for a reason. We may not understand it, or like it, but if we don't accept it, we will never, ever find peace.
I am ready for whatever comes next, in my personal or business worlds. More time playing outdoors with my kids showing them what I love to do. More time reading frivolous (and sometimes trashy) books because they make me happy. And more time living each day to its fullest…trying desperately not to be a neat freak!
This word was inspired by a book we read often at night with my daughter. It's called "Hug Time" by Patrick McDonnell, and the ending reads:
"The world is so big … / And yet so small, / It's time that we embrace it all. / That's something that we all can do. / Start with the one who's closest to you."

A happiest wish to all of you for a fantastic New Year. It's upon us, let us all embrace whatever may unfold, and find self love and peace in 2014.

What's your word?