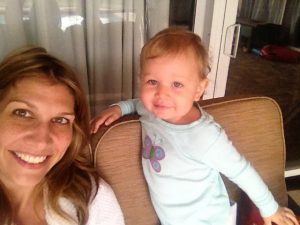 Watching the sunrise while the rest of the house sleeps…
So as I was at Fresh Market this morning a nice woman came up to me and said "You have the coolest job! I would LOVE to talk to the HEAT players…" As I stared at her through my exhausted, bleary eyes, I thought, she's right, it IS a fun job.
But she had no idea that my 35 minute commute home last night actually took triple the time because of construction on the turnpike. She didn't know that after arriving home at nearly midnight, I then did the dishes, made bottles and lunches for the next day, and put away the clean clothes. She also didn't know I crawled into bed close to 1:00am last night (after waking at 5am that morning) and was awakened before the sun this morning with a teething 17 month old. We did watch a killer sunrise though! This is the not-so-glamorous side of sports broadcasting.
Trust me, I'm not complaining. I am SO lucky to be able to cover this Miami HEAT team and work in sports broadcasting. Plus I have so much flexibility in my career right now with the Marlins and Fox, that I'm able to be with my kids 3-4 days a week. But let me tell you…today I was beyond TIRED! And it's not like I have a full-time nanny and can nap and relax today. Oh no, being a mom is my first and most important job, and I had a full day today.
Lila at Young at Art Museum
So after 5 hours of shut eye, I spent the morning with my kids. Taking my 4 year old to an art lesson, and playing with my baby. Then at 1:00pm I headed down to Marlins Park to shoot not 1, not 2, but 3 segments for my kids show Billy's Bunch. My instinct is to throw on a t-shirt, baseball hat, and call it a day. I'm not on camera today… just producing…no one cares right? But I do.
I believe that you should dress how you want to be perceived. And when I am tired…dressing up actually makes me feel better. Plus I have 3 kid reporters that are depending on me for direction, encouragement, and advice. Can I show up looking like bum? Absolutely. But why? So many moms fall into the yoga pants, t-shirt or tank top, and pony tail trap. It's so easy AND you have an excuse. Moms are overworked and overtired. But it's just as easy to throw on some designer jeans, minimal makeup, and fire up that flat iron for some waves. Plus, my girls love it when I do their hair and makeup too! No this isn't toddlers and tiaras… just some lip gloss and curls…
Even though it was literally a bone crushing, exhausting day of shooting, I think we captured television gold. Seriously the best VERSUS of the season yet, as Marlins catcher Rob Brantly (a good sport as always) was mummified in toilet paper by our kid reporter, as teammate Tom Koehler taunted him.
Mummy Brantly….who won? Tune in to Billy's Bunch to see!
And a cameo by Giancarlo Stanton today was totally hilarious and an added bonus to next month's show! The Marlins were in a great mood, and it was a gorgeous day at Marlins Park.
Frankie "Can you smell what the Rock is cooking?!"