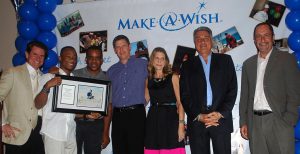 Pictured: (from the left) Ted Ballard, Tyler Gutzmer, AJ Speaks, Bob Hewitt, Kristen Hewitt, Tony Fiorentino & Eric Reid)
Sun Sports was named the Media Partner of the Year for their efforts last season in helping to grant a wish. The Make A Wish Donor Awards dinner took place Wednesday, October 2, 2013 at Jungle Island's Treetop Ballroom in Miami. Sun Sports & the Miami HEAT's Executive Director Ted Ballard was on hand to accept the award, along with several members of the Miami HEAT and Sun Sports broadcast crew.
Here's a link to my story on
FOX Sports Florida's website.
"The wishes we grant bring happiness to the lives of children and the memories often provide inspiration to continue fighting against the health issues that threaten their lives."
— Norman Wedderburn, president & CEO, Make-A-Wish Southern Florida