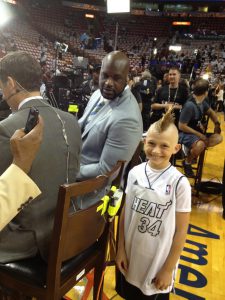 He arrived at Game 2 of the NBA Finals sporting a newly shaved mohawk, wearing a Ray Allen white hot jersey, and with a ball in hand ready to be signed. Within minutes he caught the attention of one of the games biggest comedians, Shaquille O'Neal who just had to take a picture with him…on the court. Who is the newest bird sensation sweeping South Florida? 10 year old Gianni Zandri, from Naples,FL.
On the set of Panthers Live with Allison Williams.
Gianni is no stranger to sports. Though this was his first NBA Finals game, he's been to several HEAT games throughout his young life. His dad, David Zandri is a Florida Panthers season ticket holder, so they are regulars on the hockey scene. And this wasn't his first "hair stunt" either. During the Panthers 2011-12 Playoff run, Gianni dyed his hair red, and even made a cameo with my colleague Allison Williams on Fox Sports Florida.
But last night for the Zandri's was all about Birdman…aka Chris Andersen. Gianni was thrilled to meet other celebrities and obtain autographs from Shaq, Vanilla Ice, and several other Miami HEAT players. But his goal was to meet Birdman. As for the mohawk, this is definitely a new look for Gianni. His dad told me, "he's been growing it out for a couple of months. I shaved his head 2 days ago when I got the tickets. I had to use a hand razor to get a nice close shave."
Though he was wearing his #34 jersey, and follows Ray Allen closely, Gianni admitted he likes Chris Andersen the best simply because, "he acts like a bird. He's tough, he knocks people down." I then asked Gianni what his mom thought. He replied, "she doesn't know about it."
Well, she doesn't know about it…YET. What will mom think about her son's new Birdman do? And what's mom going to say to her ex-husband? Good thing it's summer…and there's plenty of time to grow it out!
And no, Gianni didn't get to compare mohawk heights with Chris Andersen last night, but with this kids style, they will surely meet again!