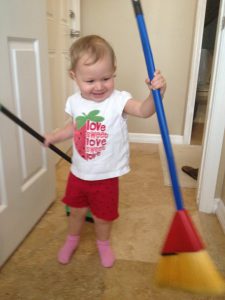 Emylia had her broom ready for the sweep!
So there it is HEAT fans. Sweep City for Miami! What we thought would be an easy series was just that. The Milwaukee Bucks struggled, and couldn't even pull out even one "W" on their home turf. Miami breezed past them in 4, sans Dwyane Wade today. Quite a turnaround for Milwaukee, who beat Miami 2 of their 3 meetings last season.
Next up, likely the Chicago Bulls if they can beat Brooklyn tomorrow night. I'm pulling for the Nets so we will get a nice long week off prior to the second round.
We of course tried to watch the game at home since it was nationally televised on ABC, and the Sun Sports crew wasn't working. I was all set for the Hewitt HEAT watch party. Girls napped, then a little swim, good snacks, and a little basketball. WRONG! The first time all season both mommy and daddy were home to actually watch (not work) a game…and we were ambushed!
Upset Daddy beat her again in tic-tac-toe.
First, our oldest just did not care about the game. Except to announce everytime Birdman was on TV, tell us she prefers the white home uni's to the red, and declared, "I do NOT want stamps on my body like Birdman." She then tried to engage her father in a game of tic-tac-toe, which she just does not get at the tender age of 4. She cried every time she lost, and then changed it from x's and o's — to z's and y's because they are easier to draw. Yeah, I don't get it either…
Then there's the baby who is now a toddler, 17 months and cannot sit still. While I tried to make dinner she wanted to color. But not alone. So my hubby was running between the art easel and the kids table while I finished a lovely dinner. Wait it's the 4th quarter?
Poor Daddy. Mickey Mouse again.
We watched the last few minutes by bribing them with homemade cupcakes I baked for our morning tea party, and Mickey Mouse fruit snacks. Oh and a quick game of Disney Princess Candyland. Sports are not the same when you have little kids, but at least they go to bed at 7pm.
Hope the Miami HEAT enjoy the week off, and rest up. Your Sun Sports crew is back at it the earliest this Saturday, May 4th. We will have pregame coverage HEAT Live on HEAT.com, and postgame shows on Sun Sports. Tune in for your favorite home crew! We know you'll be watching since Sun Sports had their highest rated broadcast ever (any sport) in Game 2 versus the Bucks. Thanks for tuning in…best fans ever!