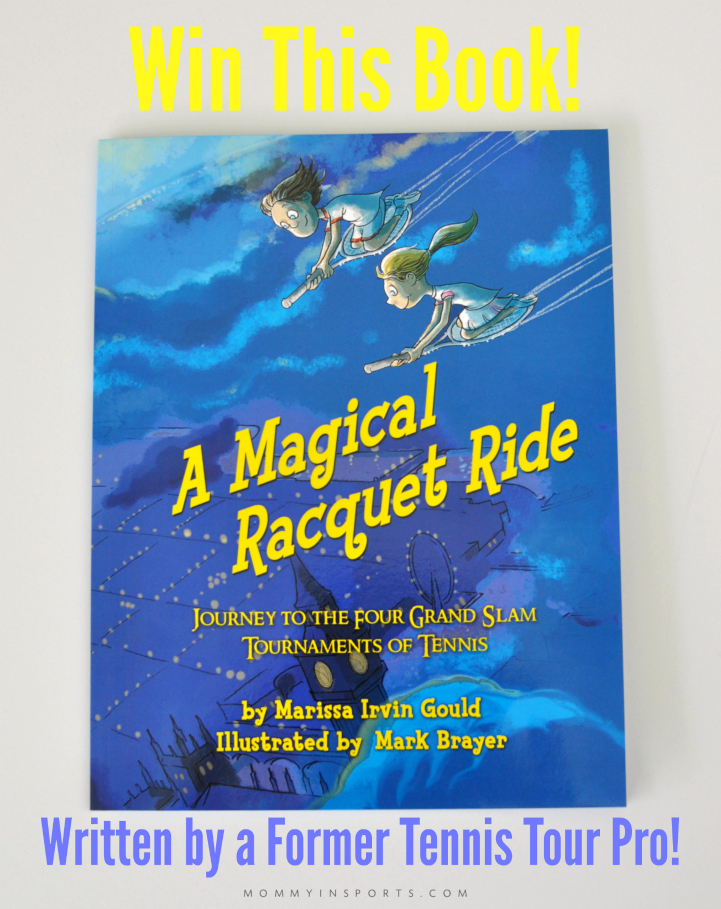 When we were watching Wimbledon this year, and trying to teach our daughter how to score tennis, it became comical.
Bob (my husband): "It's Love – 30. Love means zero."
Lila: "That's not what love means."
Bob: "Well in tennis it means zero points."
Lila: "That's hilarious!"
And so it began…how to teach our kids the basics of one of my favorite sports, tennis. I grew up idolizing Chris Evert and Andre Agassi, and watched all of the grand slams religiously with my mom. Now that our first born is five, we've been thinking about starting her in tennis, and were so happy to find this new title, "A Magical Racquet Ride" written by former WTA pro Marissa Irvin Gould.
A California native, Marissa Irvin Gould dominated the Junior circuit and was ranked #1 in Doubles in the world, and #1 in Doubles and Singles in the US.  According to Marissa, "As the story goes, I was Venus Williams' first ever match in Juniors. I'll never forget her walking onto the court, she seemed eight feet taller than me! I promptly lost that match 6-0, 6-0!"  From there she went on to become an NCAA Champion at Stanford University, and then played professionally on the WTA Tour from 2000-2005. During that time Marissa competed in 22 grand slams, traveling around the world playing the game she loved.
After her tennis career ended, Marissa went on to gain her Masters Degree in Education, and later taught kindergarten and third grade. She also became the mother of three. Oh and did I mention she's a marathon runner too? (Can I get some of that energy?) It seems a perfect fit…who better to introduce kids to tennis?! But why write a children's book?
The primary reason was my kids, and the kids I taught in school, were interested when they heard I was a pro tennis player. When I went to the library, all I could find about tennis were biographies or instructional books, and maybe one or two fictional stories. I've always loved writing, and my son really loves Peter Pan…you know adventure and fantasy. So I thought – why don't I write one? I am pretty darn qualified!"
And that's exactly what she did. Marissa created a lovely adventure story about Nick and Molly, twins who receive magical tennis racquets on their birthday. While sleeping at night, they go on a wonderful journey through the lands of the four grand slam tennis tournaments. This is the only book which uses the names of the actual tournaments and venues, as Marissa had to get special clearance from each tournament. And not only does she beautifully describe the game of tennis, but also the geography of the countries, special landmarks, and customs associated with each tournament.
I tried to combine the geography and put them all together so kids could learn. As a girl growing up I was always interested in sports, there aren't that many books for girls out there. There are tons of princess and ballet stories, but I wanted to create a book that girls and boys could have fun with."
And don't be surprised if parents learn something as well…like did you know shoes for grass courts require little spikes? And my daughter now wants to go to jolly old England just to try strawberries and cream! What I personally love about the book is it opened up more discussion about different countries and their cultures, and we even pulled out a map to look at Australia and France. Plus it inspired my daughter to want to play tennis, and she literally asked me four nights in a row at bedtime, "can we read the tennis book again?"
Marrisa Irvin Gould will be at the US Open on Friday, August 29th doing a special book signing at the US Open Bookstore at 1:00pm. But don't worry if you don't have tickets to the famed tourney in Flushing Meadows, you can find  a copy of "A Magical Racquet Ride" on Marissa's site, or through Amazon. And  for mommy in SPORTS readers only, this ultimate mommy in SPORTS is offering you the chance to win a signed copy of her book below. I  hope you'll add this new title to your home library, it's a great time to brush up on the US Open and get your little readers ready for school. Plus Marissa totally aced it with her debut book. (pardon the pun!)
Good luck!