It's amazing how much one person can impact a city. But that's just what Lebron James does, he can ignite hope or devastation in the blink of an eye to millions of people. Though it's just basketball as some say, sports do matter. And not just to adults.
The one thing I never really thought of when I read the Sports Illustrated Essay by Lebron James….how do we tell our kids? Will they even be affected by the news?
So I told Lila that the team has changed, and Lebron is moving home. Considering her love for James, Birdman and Burnie, I was surprised by her sensitivity. "Aww mommy, he's your favorite player. I'm sorry, but at least now he will be home with his family. And we still have Birdman and Burnie right?"
Well…yes on Burnie. (whew!)
Clearly she wasn't really phased, but some of my friend's children were. I thought of my friend Heather who has a six year old that is a die-hard HEAT and Lebron fan. She ironically sent me this text early this morning:
"Oh man Kyle took the news really hard. He's crying :("
On a phone call afterwards she relayed that he was upset for about 30 minutes this morning. "When I told him, it was like I was telling him someone died. He was shocked…it was utter disappointment."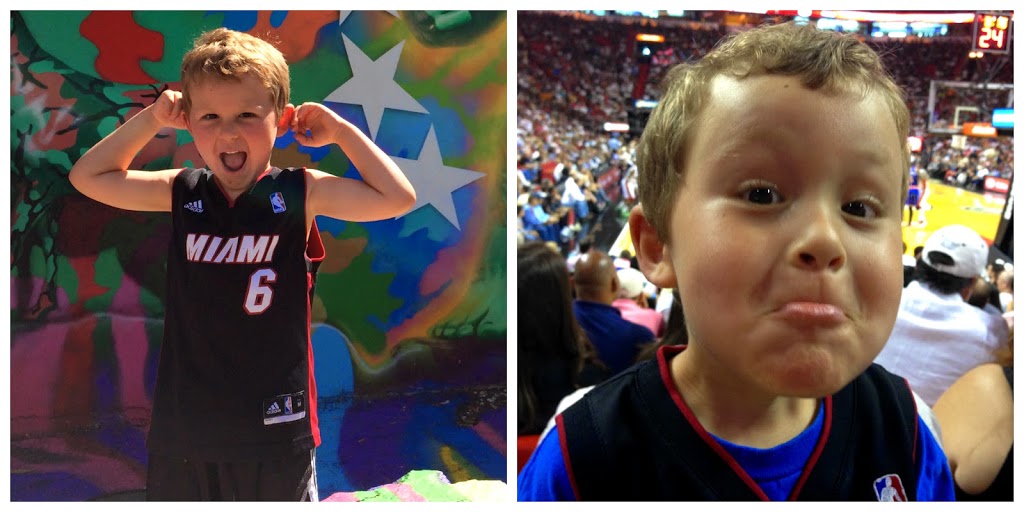 My obstetrician (and friend) sent me this iTouch message from his eight year old son Logan today as well. Logan loves Dwyane Wade and Lebron James, and told me he heard about his departure on the news last night. He said he felt sad though, not angry.
Miami, we have a problem.
And our waitress at lunch today at Yardhouse was worried that her 11-year-old daughter took the news hard. "She called me crying when I was at work yesterday. There was nothing I could do, I told her we were lucky he came here."
We are indeed lucky that Lebron came to South Florida, bringing those famous talents with him. He led Miami to four straight NBA Finals appearances, a feat only two other NBA teams accomplished: The Boston Celtics twice, and the Los Angeles Lakers led by Pat Riley. James helped deliver two more Larry O'Brien trophies to this city, along with immeasurable amounts of hope and happiness.
Though our kids may not understand the business of basketball, they will now learn an important lesson: appreciate what you have. Enjoy it, embrace it, soak it in. We all witnessed something we may never see again in our lifetime, and for that we can be thankful.
The one thing these exceptional children all can agree on? They will still be Miami HEAT fans this season. Though they still love Lebron, and are sad to see him go, they will not be cheering for the Cavs. Their loyalty is to the HEAT, Chris Bosh, Dwyane Wade, the remaining players and of course Burnie.
So if your child is sad, or angry, or shocked and disappointed, remind them of this very apropos quote from Dr. Seuss:
Life and basketball goes on.