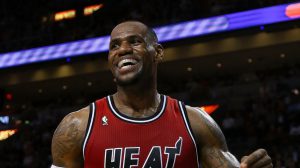 Lebron James all smiles after torching the Clippers by 22 last night.
After watching Lebron James literally play catch with a fan last night during the Clippers game, I immediately thought; how can anyone NOT like this guy? He's selfless, charismatic, not to mention totally dominating and elevating his game this season. Just when you thought he plateau'd–James, as told by Coach Spoelstra "totally reinvents himself." Last night his teammate Dwyane Wade commented after the game, "He's off the planet. He's not even the best player on the planet. He's somewhere else right now–the galaxy."
Improbable hook shot earns embrace from King James.
This is one of the most popular videos on You Tube right now. http://www.youtube.com/watch?v=Sqd3jUPq3Lw. Lebron James tackled a fan on January 25, 2013, after he sank a spectacular half court shot that earned the lucky fan $75,000. Not only was it worth the ginormous bear hug he received from Lebron, but James was elated because another $75K was given to the Boys & Girls Clubs of America. Pretty good guy huh?
Lucky fan on vacation from Honduras.
Then last night at the end of the 2nd quarter during the HEAT-Clippers game, the ball went out of bounds at the AmericanAirlines Arena. Lebron signaled for the fan to throw it to him, then surprised him by tossing it back to this lucky guy! Everyone in the arena erupted with laughter, and cheered for the king who was 6/6 shooting in the first half.
(VIDEO HERE) http://www.foxsportsflorida.com/02/09/13/LeBron-has-a-little-fun-with-fan-in-stan/landing_florida_blog.html?blockID=861411&feedID=3565
If these actions alone don't sway you to cheer for 9-time All-Star, then check out his numbers. Lebron James has scored 30+ points in four straight games tying Dwyane Wade's HEAT record. He's also made 37 of his last 47 shots, and is shooting a career high 55% from the field. His numbers are just as good as his MVP season last year.
It's such a privilege and a pleasure to watch Lebron James on a nightly basis, I am very grateful for my position with Sun Sports on Miami HEAT telecasts. Very lucky to be a mommy in sports…plus it's a lot easier than teaching this one how to ride a bike!
Day Job.
Night job.