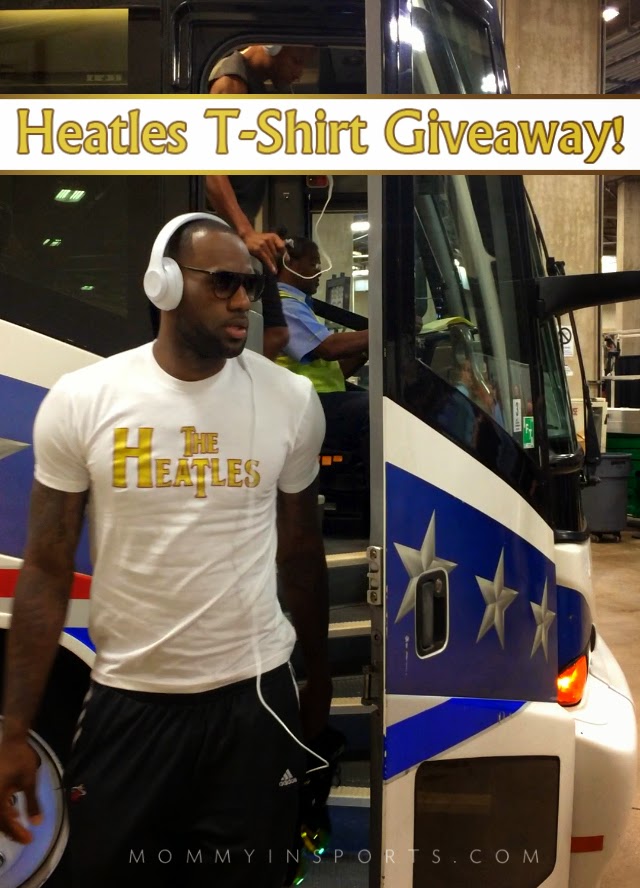 Lebron James arriving at AT&T Center in San Antonio, TX on June 4, 2014.
Tonight is Game 1 of the 2014 NBA Finals and the Miami HEAT are back in Texas trying to 3-peat. Lebron James was caught wearing this new Finals version of the popular HEATLES shirts yesterday at the AT&T Center in San Antonio. These t-shirts are made and designed by
LYFE Brand
, and were first debuted when Dwayne Wade wore it at Shane Battier's
Battioke
event on January 27th earlier this year.
Mike Guerrero, co-owner of LYFE Brand told me he and his partners decided to make the shirts after they noticed the players using hashtag #Heatles in social media back in December. "Originally we made them for players using a charcoal print with a different color HEATLES print. But then the fans starting asking for them so we decided to roll with it…and it's become Heatle-mania!"
Miami HEAT fans all across the globe are loving the new HEATLES shirts – especially this new gold design created for the 2014 NBA Finals. Mike said, "
It's been unreal, we had prepared ourselves with 6,000 shirts for the Finals. But because of demand from stores we are printing more.
People have been buying them like crazy!"
LYFE Brand
has been kind to offer mommy in SPORTS readers the chance to win their own Finals edition t-shirt. They will send one
ladies
shirt and one men's shirt to two separate lucky winners. So make sure you enter below a
nd don't forget to leave us a way to reach you, and your size so we can send you your shirt!