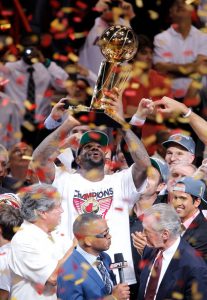 THIS is the goal!
It wasn't always pretty. It wasn't always easy. It was the HEAT Streak, and last night it was snapped at 27 consecutive wins in Chicago against the undermanned Bulls. During the historic winning streak, Miami came from behind 11 times…coining several phrases and hashtags, including my favorite from colleague Jason Jackson; COMEBACKABILITY.
What a pleasure and immense honor to be able to witness firsthand such a historic feat. Someday we will tell our kids about the greatness we witnessed. The amazing intensity, the gritty hustle, and the heart stopping come from behind victories that left us breathless and in awe. No the Miami HEAT did not win 6 more to reach what the 71-72 Lakers did…but what they did in today's league is more than impressive.
After the Streak is Over
What happens after the streak is anyone's guess, but here's some "after the streak" history:
33 wins, Lakers–Lost 4 of next 6
27 wins, HEAT–?
22 wins, Rockets–Lost 5 of next 8
20 wins, Bucks–Lost 5 of next 6
Do not despair if the HEAT are not victorious in their next 2 games on the road. Miami's next stop is the big easy, where wins lately have been anything but easy. The HEAT have lost 6 straight in New Orleans, and after the game Friday night, Miami travels to San Antonio to face the Spurs on Easter Sunday. There, the HEAT are 2-22 all time. Are these teams beatable? Of course, but it's the NBA, and last night proved anything can happen.

My Favs on Twitter
Last night twitter was on fire. The haters were in full force, but of course my favorite tweets came from those were objective, and well, just funny!
Michael Strahan:
"I really don't get into basketball til playoffs, but all this Heat hate is funny. Congrats to the Bulls but they'll be watching finals at home."
Adrienne Bosh with perspective wrote:
"The sky is not falling, the sun will still come out tomorrow! The HEAT is still #1 in the East, still best streak in season, still NBA champs!"
There are just 11 games left in the regular season, with 6 in Miami before the the fun really begins…the White Hot Playoffs. The defending NBA Champions are looking for a repeat. But first, time to get back to basics and focus not on how to end a game, but how to start strong. If the HEAT's performance since February 1st is any indication, it's going to be a fun ride!