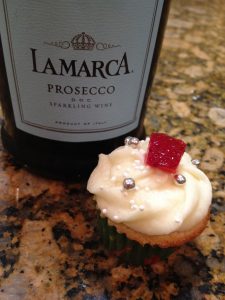 Champagne cupcake with champagne buttercream.
No, not a typo. That's what my 3 year old repeatedly said as we baked champagne cupcakes last night. "Happy New Ear mommy!" We didn't make it to midnight–but a valiant effort by the Hewitt girls.
So as I sit here finally enjoying my glass of champagne on New Years Night, I have hope for the dilapidated sports frontier here in Miami. Let's look back at 2012 and where we stand now. Things can only get better. Right?
1. MIAMI MARLINS. Remember this time last year, when everything was changing for the Marlins? New name, new stadium, new uniforms? They signed Jose Reyes, Heath Bell, Mark Buerhle, and Carlos Zambrano. The Marlins were featured on The Franchise on Showtime. Expections, hope and excitement were high…then they won only 69 games, no playoffs. Rather than giving the team a chance to improve, Jeffrey Loria had a proverbial firesale. As I think about what will happen this year, I can only imagine the movie Major League. But at least there will be a season!
2. FLORIDA PANTHERS. Last season was historic, as the Panthers won their first ever division title, and made it to the playoffs for the first time in a decade. They were knocked out in the first round, but hey…at least they made it to the postseason. Now we sit in lockout mode for the 2nd time in 8 years, crossing our fingers, but realistically waiting for the season to be cancelled.
3. MIAMI DOLPHINS. Following in the Marlins footsteps, the Dolphins decided to go on national television as well, this time HBO's Hard Knocks. After the drama of waiving Ochocinco and trading Vontae Davis, the Fins finished 0-4 in the preseason. The prognosticators were predicting doom. Luckily the Dolphins did something right, and started rookie Ryan Tannehill, finishing the season with a semi-respectable 7-9 record. I'm not ready to renew my season tickets, but with salary cap space and several draft picks next year, the future looks bright for Fins fans. (PS–good luck to the Vikings in the Playoffs!)
4. MIAMI HEAT. Saved the best for last! 2012 NBA Champions. Enough said right? The HEAT brought Miami their 2nd championship trophy in 6 years. This season they return the same core group of players, plus Ray Allen and Rashard Lewis. The HEAT are currently 21-8 and 1st in the Eastern Conference. Unfortunately their losses this year include teams like the Wizards, Pistons, and a couple of blowouts to the Knicks, so some out there are sounding the panic alarm. Relax, it's a long season. And the team obviously knows how to play defense…they ARE "defending" champs after all.

Lila helping me get the Larry O'Brien Trophy spic n' span for a shoot.
Happy New Y-EAR to all! Wishing health, happiness, and lots of Miami wins in 2013!