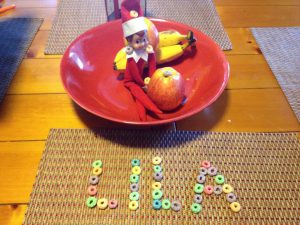 The Elf is back–and helping me get through each day.
It's only fitting that I start a blog during the holidays, when both my kids are sick, and on a Miami HEAT game day.

But why not?
The secret (I've learned) to surviving a game day is multi-tasking and always staying 2 steps ahead. My day started late today, a little after 7am. I get the baby up, then a little TV. Yes, my 1 year old already loves Mickey Mouse Clubhouse, which gives me the chance to read the headlines on the HEAT and the Hornets…and if I'm lucky peruse the game notes. This particular morning Emy loves attacking my laptop. Note to self—add real looking laptop toy to Christmas list.

Next my 3 ½ year old wakes up (Lila reminds me all the time she's 3 and a HALF, not 3) and announces "I'm not getting up ever!". Eventually she gets her grumpy, congested, butt out of bed (thanks to our elf Chuckie) and I feed the girls breakfast. At around 8:30 my hubby and I switch so I can get a little cardio in. He was working on graphics for the broadcast, he's been a Miami HEAT employee for over a decade. Baby goes down for nap #1 at 9am and that's when I hit the grocery store with Lila.

After shopping, unloading and unpacking the groceries I really really really need a shower. But the girls need attention, so I decide to do a Christmas ornament project. Lila loves art, and homemade gifts are our "thing" this year. Candles made out of baby food jars, ornaments, and cookies. Yes, I'm an overachiever and really need to work on overloading myself. Then it's lunch time, dishes, and play some more.

My favorite part of the day comes at 1pm …we call it REST time. This is when Lila plays quietly in her room for an hour, and Emy takes nap #2. I officially slip out of "mom"-mode and begin to prepare my pregame hit for HEAT Live on SunSports, and do any other necessary research. We usually have a conference call around 2 to discuss themes out of shoot around from that morning, and go over our assignments with our producer.
After that I finally get a shower and our wonderful nanny arrives.

I get ready for the game and then head to the American Airlines Arena around 4:30 pm for my night shift.

It's a crazy day–but I wouldn't change a thing. Except winning the lottery…that would be AWESOME!