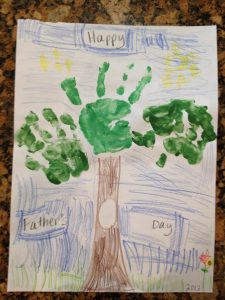 Handprint tree for Daddy.
We had a short but awesome Father's Day morning in our house. Why? Well it's a Miami HEAT game day (aka Game 5 of the NBA Finals), and my husband had to work the HEAT Live pre and post game show. To which Lila declared incredulously, with croc tears and a quivering lip, "you can't work on Father's Day!"
But we made daddy a delicious breakfast of homemade buttermilk pancakes, bacon, and lavished gift after gift upon him….from the Dollar Tree of course. I mean seriously, what dad doesn't want a pink heart glow stick and a crystal growing kit?
"Any man can be a Father, it takes someone special to be a Dad."
I LOVE this quote. I have so many friends and co-workers whose husbands truly are the rock in their households. Including my own. Mom's may be the glue that hold everything and everyone together, but father's are the foundation. They support us. They protect us. They are the yin to our yang. They provide a different yet important type of comfort to our children.
I am blessed to have married the most patient, caring man, who is also used to — and knows how to handle girls. He is the youngest of 4 children, with 3 older sisters. He is also kind of shy, which is why I don't post his picture…yet!
I am also blessed to have an amazing father. My dad is the best listener, and one of the best friends I have. We are very similar, which doesn't make for good times ALL the time! But he gets me, and I have so many great memories of flying with him in his Cessna, or going to Minnesota for the summer.
Without these two men in my life, I don't know where I would be today. Or who I would be….
After a short morning with the kiddos, what the dad's of HEAT Live didn't know was their awesome wives and kids had a surprise for them. After Jason Jackson, John Crotty, my hubby and Director Ted Ballard went on the air tonight, we (the wives, kids and staff) moved into the American Airlines Arena with a dinner party. Delicious apps, dinner from Perricones, and fresh home baked desserts. Plus great company!
It was great to take my girls down to the road rally, and for all the dad's to get some more time with their families. In this business it's not quantity…it's quality time. And though today wasn't what most dads would have planned, I'm glad we were able to make it special for them. Even though they were stuck working.
Happy Father's Day guys! Enjoy the attention…tomorrow…it's back to garbage patrol.