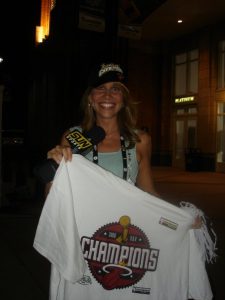 1st HEAT Championship outside AACenter in Dallas.
As I wake up after a much needed 11 hours of nyquil induced sleep, I can't help but wonder how I got so lucky. Some NBA teams have never made the NBA Finals once, I have been apart of not one, not two, but THREE Miami HEAT championship broadcasts. What the HEAT accomplished Thursday night proves that their championship blueprint wasn't an experiment, but perhaps a dynasty in the making.
In 2006, the celebration after the winning Game 6 in Dallas was intense. The locker room was a champagne pool, and I'll never forget Udonis Haslem's tears or Jason Williams jumping around dousing anyone he could find! We were then invited to the players party before departing Dallas, and listening to Shaquille's speeches for his teammates was the most memorable night of my career.
Last season's championship, the 2012 victory over the Oklahoma City Thunder was a huge relief for this team, and Lebron James. The King, constantly criticized for not being clutch, won his first title, and solidified himself among the sports elite. Afterwards, I raced home to be with my very young baby, who I was still nursing at the time. No celebration for this mommy, just much needed sleep.
But this season was just different. This season the HEAT were favored to win it all. The criticism of the Decision, and losing in the 2011 Finals to the Mavs all but forgotten. Miami went on a historic winning streak, lasting 27 games before falling to the short-handed Chicago Bulls on the road. The first 2 series of 2013 postseason were easy for the HEAT, sweeping the Bucks, and only dropping one game to the Chicago Bulls. But when the Indiana Pacers pushed Miami to a deciding Game 7, the national scrutiny again began. What's wrong with Wade? Is Lebron clutch? Where's Shane Battier?
This 2013 NBA Finals Series could go down as one of the best ever. The dominant, robotic, near perfect San Antonio Spurs against the struggling defending champions. Alternating wins, nail biting thrillers…this series had it all. Including Danny Green breaking Ray Allen's record of most 3's in an NBA Finals. But Ray Allen stepped up in Game 6… Big. The 17 year veteran forced the overtime period, and with one 25 foot epic 3 pointer, single handedly salvaged the Miami HEAT's championship dreams. No shoe, no headband, no problem.
Game 7 was a fight, and even with 1:00 on the clock, you weren't sure if Miami was actually going to pull out the win, and repeat as NBA Champions. I documented each and every moment of the last few seconds of the game and celebration on my iphone. This was one for history. A winning regular season, and 3rd NBA title for the Miami HEAT. Who knows what will happen next year…so for now I will just bask in the championship glory of the Miami HEAT's back to back success. Here are some of my favorite moments from Thursday night:
Seconds left in game, we knew HEAT were about to win!
Miami HEAT Repeat.
The Riley's asked me to take this one!
Doing post game show on Sun Sports.
With 6-3's in Game 7, Shane Battier at post game party.
With Cal Ripken Jr., who flew in just for Game 7.
With the legend Pat Riley, team President and GREAT guy!
An unforgettable late night, and worth the bags that still remain under my eyes. Can't wait for the 3rd parade on Monday for the city of Miami! If you'd like more information on the parade, please check out my Facebook page.
No more late nights for this mommy until the fall, unless the baby wakes up of course!