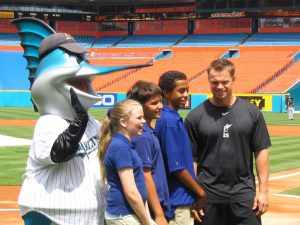 Billy's Bunch wrap shoot 2010 with former Marlin Brett Carroll.
While the world is focused on the Super Bowl today, I will be prepping for baseball season.
Yes, it's that time. Spring Training is just around the corner (February 11th to be exact), and it's time to plan my shoot schedule for the kids show "Billy's Bunch". This will be my 5th season producing and editing the Marlins show for Fox Sports Florida. Returning this season will be our kid host Lauren, and this year former Marlins player Preston Wilson will join her as co-host every show. He's awesome, hope he rocks the bow-tie!
We are also adding new kid reporters, auditions were held last week. We were very surprised and happy to find several talented, confident, cute and hilarious South Florida phenoms. Can't wait to debut the new personalities!
Stevie at Players Edge Baseball Academy with Marlins Outfielder Justin Ruggiano.
Since Stevie (now 16 and driving) is retiring, we have to come up with a new name and concept for our trivia segment "Strikeouts with Stevie". I basically stole the idea from the producers at the Miami HEAT who created the world renowned "Hot Seconds with Jax". Thievery is really the purest form of flattery, in this business anyways!
I'm looking forward to covering several events as part of Marlins Ayudan week. The team will be visiting South Florida schools, as well as hosting some fun, family-friendly events. Hope some of you can come out and see what the Marlins have planned this week!
And here is where the Billy's Bunch crew will be hanging…bring your kids!
February 6th–Marlins visit the Miami HEAT
February 7th–Marlins Basebowl at Lucky Strike Miami Beach 6:30pm
February 9th–MetroPCS Miami Marlins Winter Warmup at Marlins Park 10am-3pm.
Here are some other events that you might want to check out:
Feb. 9: U of Miami Men's Basketball vs. UNC (BankUnited Center) at 2:00PM
Feb. 10: Heat vs. Lakers (AmericanAirlines Arena) at 3:30PM
Feb. 10: Panthers vs. Hurricanes (BankAtlantic Center) at 3:00PM
Feb. 14-18: Miami International Boat Show
Feb. 16-18: Coconut Grove Arts Festival
Feb. 21-24: South Beach Food & Wine Festival
In addition, I will also be covering all three Miami HEAT games this week as a reporter for SunSports. Going to be a busy week…ahhh spring is unofficially here!