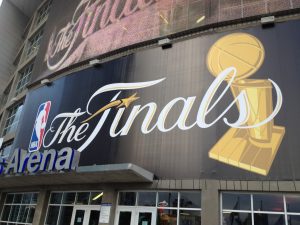 As I sit down to prepare for the last HEAT Live show of the season, Game 7 of the NBA Finals, I am surprised to find that I'm filled with sadness. To me, it feels like the last day of school. The last time we will experience the sights and sounds of the NBA, and for me to work with the talented and tireless HEAT Live crew, until the preseason begins in September.
It's the last time we will hear little powerhouse singer Julia Dale dazzle us with the national anthem. The last time we will see an opening tip. Hear the sound of the ball bouncing on court, the shoes squeaking as they blow past a defender, or the ball clanking off the rim. Watch in pure wonder and amazement at whatever acrobatic moves the players on the court might execute.
As fans it's the last time of the season that that we will feel the overwhelming nausea of nervousness. The anxiety of what may or may not happen, and the anticipation that leaves us pacing back & forth, looking at the clock every 10 minutes.
But I'm also feeling very excited and still awestruck that we are about to embark on yet another Game 7. The fact that I am asked to cover this monumental sporting event is absolutely amazing. How many of us will tell our kids about Ray Allen's 3 pointer that may become the biggest shot in Miami HEAT history? Or talk about the shock and pure exhilaration when we learned that Miami was getting the chance to play for their 2nd straight NBA title.
Enjoy today. Savor each passing second of not knowing. And no matter what the outcome, rejoice in the fact that tonight we will see an NBA Champion crowned. If it IS the San Antonio Spurs, know that they are a tremendously talented team who played dominantly throughout this season and series. Either team is deserving of the title.
And if it happens to be the Miami HEAT…well…just soak it in. We as South Floridians are blessed to be able to watch this team day in and day out. Lucky to witness a 27 game win streak, and honored to be watching this team play in their 3rd consecutive NBA Finals.
Someday we'll all look back at today, hoping and wishing we could be a part of it again. But for now, just allow yourself to feel the electricity pumping through your body, embrace the anxiety and sweaty palms, and be thankful that you are alive and a part of this historic Miami HEAT run.
For the final time of this season and the 2013 NBA Finals…LET'S GO HEAT!!!