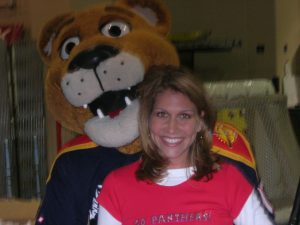 But the real question is…does anyone even care?
I just googled the NHL lockout to see what I could find…and was surprised at the lack of coverage. I know hockey is not that popular in Florida, but I thought national publications would have more information. You would think the league would have learned its lesson in 2004, when the entire season was cancelled. It was the first time the Stanley Cup was not awarded since 1919, and the first time a major pro sports league in North America cancelled a complete season because of a labor dispute.
Eight years later here we are again…but why? Players receive 57% of hockey related revenue, the league wants that number down to 47%. Players say they shouldn't be forced to make concessions. Both sides have valid points…BUT is it worth losing another season?
There are hundreds of thousands of employess whose lives are being affected. It's the holidays, these people have families, and would like to know if they are going to have a job this season.
Here's an update on where talks stand if you care to read further.
http://aol.sportingnews.com/nhl/story/2012-12-11/nhl-lockout-talks-resume-wednesday-undisclosed-location-nhl-nhlpa-bettman-fehr
Why do I care? I was an employee of the Florida Panthers in 2004, and was laid off the day after the lockout began. It was probably the worst feeling ever–losing your job. I'll never forget walking into that office, seeing the tears in my superiors' eyes, and hearing the words: "I'm sorry, but we have to let you go." Kind of like a bad breakup "it's not you it's me". I didn't understand the dispute then, and I don't understand it now.
I was never hired back by the team in the Game Presentation Department, but luckily I was picked up by the Miami HEAT. I did return a few seasons later as the Panthers In-Arena Host, and then as a reporter for Fox Sports. I enjoyed working there immensly, hockey is such a fun sport to watch live. It's exciting, it's a different game experience for fans, and the best part…it's cold!
I mean seriously, who doesn't like breaking out their scarves and Uggs when it's 85 degress out?